SMALL GROUP TOURS OVERVIEW
On our Small Group Tours enjoy an intimate & authentic tour experience to Northern Britain at a slower pace and with more time to enjoy the beauty, wonders & culinary delights our regions have to offer.
You will travel with like-minded people and will be accompanied by knowledgeable & professional local experts. Our small ship experiences enjoy the exclusive opportunity of having the captain give you insight on the adventures ahead. On some cruises we have expert wildlife or photography guides onboard.
We carefully plan our own tour itineraries and hand-pick local partners to create a diverse range of unique small group tours & itineraries to Northern Britain.
All land-based small group tours include vehicles to provide the opportunity to travel off-the-beaten-track, taking in locations unreachable in larger vehicles.
KEY FEATURES
Local dedicated team based in Northern England
Premium and luxury accommodations
Small cruise ship experiences include drinks packages & equipment usage (e.g. kayaks) free-of-charge
Smaller vehicles to get more off the beaten track
Immersive & comprehensive sightseeing and experience programs escorted by local experts
Authentic local experiences & cuisine for a true taste of Northern Britain
Full financial security for all monies paid incl. Fair Pricing & Book with Confidence policies
Maximum of 16 guests (11 on cruise tours)
SIGNATURE SMALL GROUP TOURS
Welcome to our Signature Tours, where you can immerse yourself in the regions you are visiting - for our Signature range, we've hand-picked our accommodation providers to bring you extra character, authenticity, convenience and comfort, whether in a small B&B or a 5-star country house hotel.
Be surprised, be immersed & feel the authentic small group tours travel experience throughout your tour.
A journey shared is an experience doubled - and on a signature tours you will be able to explore your chosen destinations with our qualified multi-lingual local tourist guides. Discover the must-see places & lesser-known sights to give you a authentic travel experience.
Best of Northumbria
Northern England is a place of unique character and Britain's hidden gem ranging from unspoilt sandy beaches and breathtaking countryside to vibrant cities rich in culture and history.
The North of England is home to 8 UNESCO World Heritage Sites, 5 national parks and almost endless world-class museums, stately homes & gardens…
Whatever it is you are looking to do in this fantastic part of the world, you will likely encounter many friendly people, discover hidden gems & create memorable experiences.
Personalised touring experience in small groups of no more than 18 guests
Slow pace to relax and experience the locations visited
Cultural & curiosity-led tours immersing you in comprehensive sightseeing and experience programs
Small luxury mini-coaches / mini-van taking you off the beaten track
Attentive, knowledgeable & passionate tourist guides and/or driver-guides
Stay in one place and experience the diversity of this great region
Authentic local experiences & cuisine for a true taste of Northern Britain
COVID-19 protocols & guidelines
Hadrian's Wall & The Roman Frontier
Immerse yourself in history with a walking holiday on the Hadrian's Wall Path National Trail. Hadrian's Wall is Europe's largest surviving Roman monument and a UNESCO World Heritage Site.
Follow the path from coast to coast with Hadrian's Wall accompanying you much of the way or, if short on time, take in the very best sections on one of our bespoke tours along the official Hadrian's Wall Path as featured in the The Telegraph.
Personalised touring in small groups or private experiences
Slow walking pace to experience the historic locations visited
Expert local tour guides
Transfers to accommodations where required
"Survival pack" for your walk incl. snacks, maps and information
Choose between 3, 5 and 7-day walking tours
Authentic local experiences
Dark Skies of Northumberland
It's safe to say that Northumberland is the best place to stargaze in the UK.
572 square miles of this Northern England county have been awarded "Gold Tier" status for their pristine dark skies, and Northumberland's International Dark Sky Park is the largest in the country. Join us on a stargazing adventure across North East England!
This four-day special tour brings you not only closer to the stars but also to our local wildlife at night. We aim to make our travel experiences more sustainable and giving you the opportunity to make your mark but leave less of a footprint behind.
Personalised touring experience in small groups of no more than 10 guests

Curiosity-led tour immersing you in comprehensive experience programs
Stargazing experiences with expert astronomers explaining the night sky
Observatory visit
Discover wildlife at night along Hadrian's Wall & North Pennines
Authentic local experiences & cuisine incl. dinner under the stars
Astronomy and astro-photography introductions
SCOTTISH SMALL GROUP CRUISES
We have partnered with our favourite small group expedition cruise line to bring you Scottish wildlife & expedition cruises of a lifetime! Our small group tours on these cruise ships are so intimate, we can anchor in the most sheltered, idyllic places, in some of Scotland's world famous islands such as Skye, St Kilda, Mull, Jura, Islay, Staffa and Iona. With a maximum of only 11 guests on each cruise, this is a highly personalised experience in Northern Scotland. Combine any cruise with one of our land-based tours or create your very own custom trip with us - find out how here.
You can observe the wildlife, swim in the sea lochs, play golf, visit famous malt whisky distilleries or just go ashore and explore at leisure.
We spot some incredible wildlife such as soaring sea & golden eagles, basking sharks, killer whales (even humpbacks!), dolphins, seabirds as well as common & grey seals. Join us!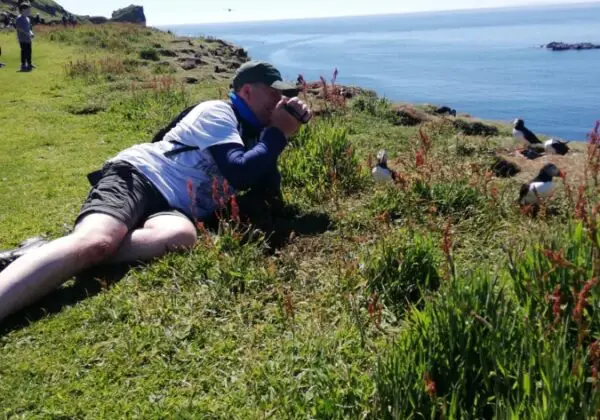 Scotland Expedition Cruise: Western Isles of Staffa, Iona & the Ross of Mull
Welcome to a magical place and islands full of wonder...
Iona, birthplace of western Christianity was where, in AD563, Saint Columba founded an abbey when he travelled over from Ireland. Iona has been for centuries a place of Christian pilgrimage and here the early abbey monks created the wonderful Book of Kells. Saint Columba and 48 Scottish kings, including Macbeth, as well as some Irish and French kings, are buried on Iona. One can walk in peaceful solitude along the island paths away from the Abbey.
Staffa has one of the world's most spectacular natural marvels in Fingal's cave - one of the islands many sea caves. The soaring beauty of the island and the cave's towering, six-sided basalt columns are famously captured by Mendelssohn's Hebridean Overture.
As we travel around the Isle of Mull we can see incredible wildlife - soaring sea and golden eagles, basking sharks, minke and killer whales, porpoises, dolphins, seabirds and seals. On board our small ships you can do as little or as much as you want. Sit back and enjoy the trip as you travel through the island's picturesque Sounds and sea lochs; view the spectacular mountains of Mull including mighty Ben More; marvel at the headland lighthouses and castles and get involved in working our wee small ships – it is all up to you.
Scotland Small Isles Cruise: Isle of Skye & surrounding isles
A small cruise around the sea lochs of the Isle of Skye and the Small Isles (Muck, Eigg, Rum and Canna) has to be one of the best ways to visit the Hebridean islands. Extraordinary Scottish wildlife is everywhere from minke and occasional killer and humpback whales, dolphins, porpoises, basking sharks, otters to many species of rare sea birds, especially sea eagles.
Throughout the mini cruise you will anchor in secluded and tranquil sea lochs and sail against a spectacular backdrop of dramatic, pristine island coastlines, high sea cliffs, wild mountains and forests. For extra fun, bring your kitesurf or windsurfer, swim from the boat and don't forget your hiking boots for stunning island walks.
You start your cruise from Oban (Dunstaffnage marina), and visit or sail past the stunning Small Isles and the west coast of Skye, which in Loch Scavaig has the most spectacular wilderness anchorage in the whole of Scotland. We travel along the west coast of Skye and at the next anchorage you can even visit Skye's famous Talisker malt whisky distillery.